Alpha 1.2 and Subscription Services
---
Alpha 1.2 of This Grand Life has been released. There are two new major features. The first is Collectibles, which was shown in the previous video. The second is Subscription Services, which is demonstrated in the video attached to this post.
Subscriptions provide useful information and services that help you achieve your life goals. For example, the Lively Livin' sub gives you a weekly tip on how to play the game. On the other end of the scale is the Grand Groceries sub, which delivers fresh groceries to your door every 4 weeks. It's more expensive than buying from the Shopping Mall, but it means you won't have to travel there every month to buy your own. There are currently 5 subscriptions in total and I'm still working on a few more.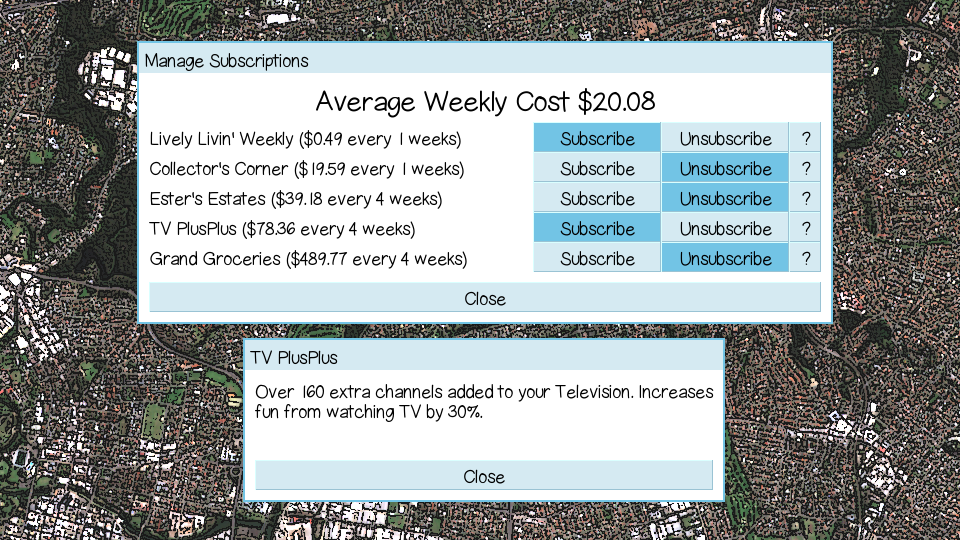 Each subscription costs money, and the price increases with inflation. So you have to think about whether keeping a subscription is worth it. The Collector's Corner subscription is useless if you're not interested in buying collectibles, or have completed all your collections.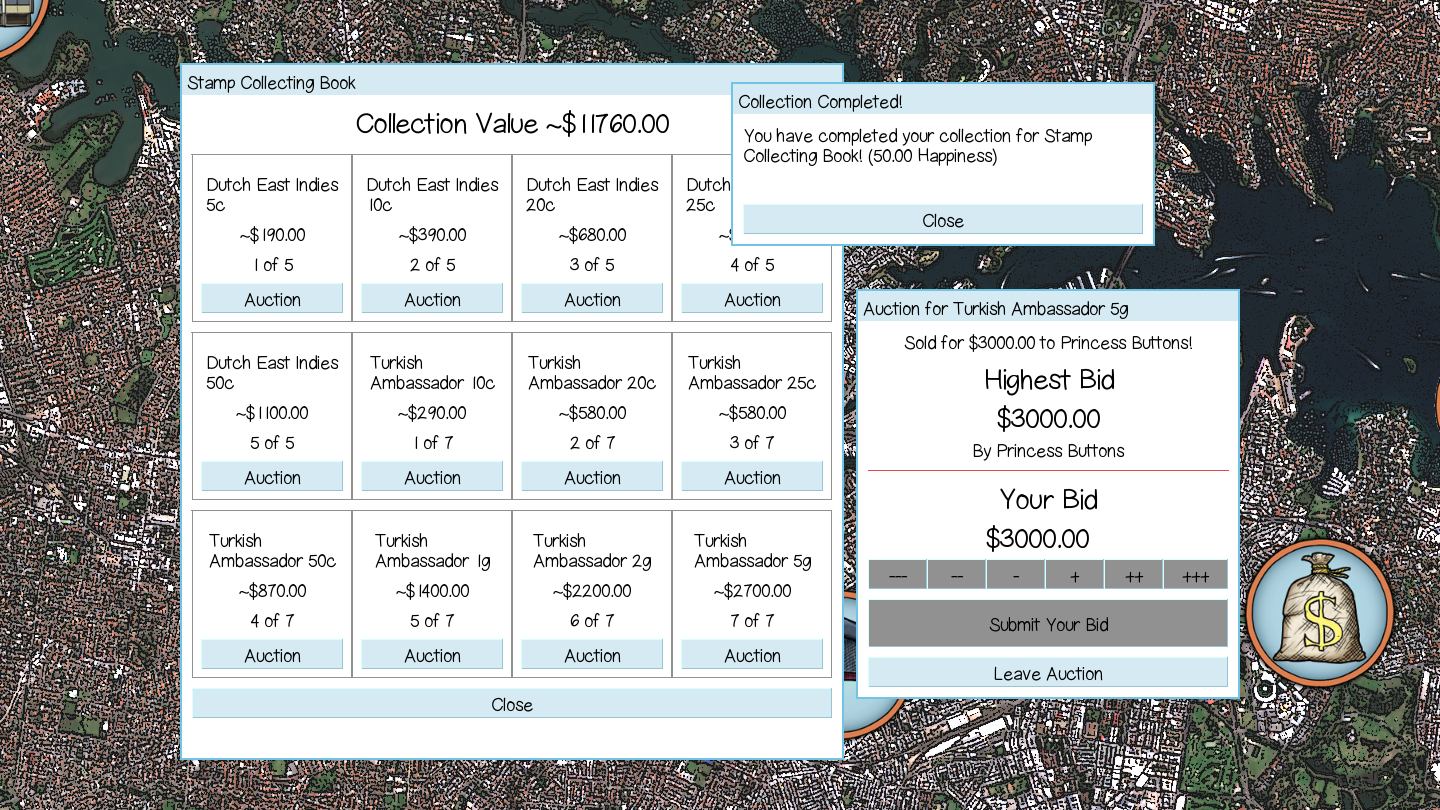 I've also updated the weekly summary panel, and now you can click on each goal to see a breakdown of your progress towards achieving that goal.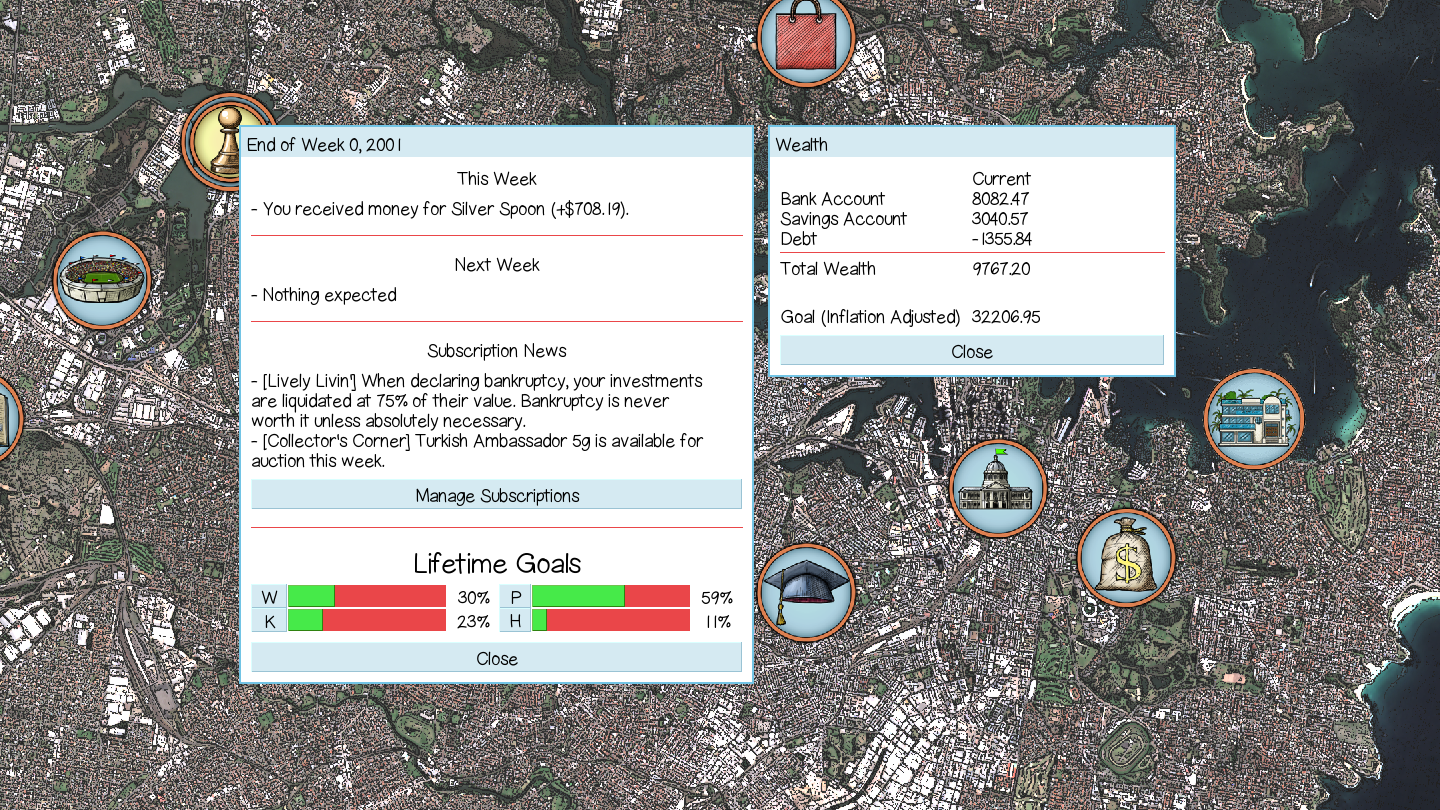 Here's the full list of changes:
New Features
Implemented auction house at Town Hall
Added 5 different collectibles
Added Social Services Manager occupation to Town Hall
Added second gameplay track and implemented song switching
Added 50% off clothing coupon
Added Subscriptions to Weekly Summary
Added Lively Livin', Grand Groceries, Collector's Corner, Ester's Estates, TV PlusPlus subscriptions
Gameplay Changes
Auction now only starts once player submits starting bid
Real estate prices now change with economic growth, rent prices change with inflation
Reduced Groundskeeper hygiene decay by half
Removed spending time required to go to real estate auction
Increased health recovery from exercising
Increased fun from watching sports game
Significantly increased base time taken for education courses
Major readjustment of experience requirements for some jobs
Lots of rebalanced health and hygiene actions
Becoming tutor now requires a bachelor of science
Fixes/Improvements
Removed Fine Jewellery from Shopping Mall
Added sound effects for auction
Added experience provided by each occupation to tooltip
Changed tutorial Shopping Mall to MallWart
Updated logo
Fixed missing Security Uniform from Clothing Store
Hide extra space on business panel when tip not being shown
Clicking on profile buttons while window already open now closes it
Reworked weekly summary to include breakdown of each goal
Updated second tutorial with new weekly summary details
Doubled speed of location text
Trait needs now editable from xml
Fixed graduating from shopaholic and alcoholic courses not removing needs effect
Fixed life goal sticking when going to start scenario and then going to start custom game straight after
Added short description for cities on city select screen
Made InfoNet searching case-insensitive
Cleaned up InfoNet navigation
Added Education courses provided by locations to InfoNet and search
Fixed missing Diploma Of Security Mgmt from Trade School
Decreased main menu/resuming loading time by ~66%
Fixed study action not disappearing straight away when completing education
Fixed property taxes amount charged in cents
Removed jobs with no openings from Apply For Job page
Added button to location panel to view all possible jobs
Files
This Grand Life Alpha Demo 1.2.zip
16 MB
Jun 14, 2017
This Grand Life Alpha 1.2.zip
73 MB
Jun 14, 2017
Comments
Log in with itch.io to leave a comment.
Please keep the updates coming! The possibilities are seriously endless for a game like this!
Great game! I am looking forward to the next update. Maybe add some self employment options, like renting out a business and managing it (employees etc), keep it in mind. :D
Contract/freelance work and starting a business are things I have thought about. I have a huge list of things I want to add, but only limited time! We will see... =)